some new Paxel features and services for help the order management process more efficiently.
The month of Ramadhan is an opportunity for some people to increase their income by selling complementary needs during the fasting month. The need for necessities during the month of Ramadhan can be used as a business opportunity or product innovation for business people. Ramadan needs range from typical food and drinks in the month of Ramadhan, frozen food, Muslim clothing and religious supplies, to Eid parcels.
With the increase in sales in our business, of course, it is also in line with our increased productivity in managing orders. If we run an online business, we need to do many things from confirming and preparing product stocks, replying to customer chats, packaging orders, to carrying out the shipping process.
When sales have increased drastically at a certain time, of course, this makes us happy as sellers with our sales. However, it made us feel a little uncomfortable managing multiple orders, especially if we did it ourselves. Therefore, we need an effective way of managing orders.
By relying on Sameday delivery service Paxel, we as sellers can rely on Paxel as a service between Eid parcels or other Ramadhan products facilitated by package pick-up services to locations that help us save time and energy in the delivery process without having to go to the counter during this Ramadhan. Send Eid packages more easily and conveniently via Paxel.
Besides, some new Paxel features and services can be the right solution for us when we experience a flood of orders at a certain time to help the order management process more efficiently.
Send Many Packages at Once Easy and Quickly
When sales increase, of course, it also increases the number of orders we have to send. Sending packages via Paxel by sending them to sahabat.paxel.co, can help us make many shipments more easily and quickly. At sahabat.paxel.co, we can make up to 100 shipments at once via PC or Laptop. Here's an easy way to create shipments on sahabat.paxel.co.
Click or visit sahabat.paxel.co which can be accessed via a PC or Laptop browser
Login using our Paxel account
We can create shipments by creating several shipments to several recipients at once or creating several shipments to one sender at once.
Send Packages up to 20 Kg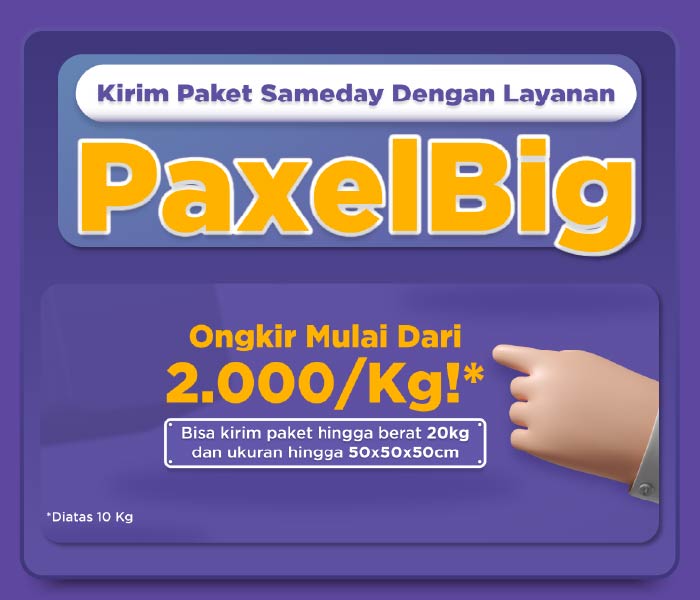 Now there is a new Paxel service that helps us send large packages up to 20 kg. With the PaxelBig service, we can send Sameday packages with a weight of up to 20 kg and a maximum dimension of 50x50x50cm. This new service from Paxel can help us deliver large orders. A highly recommended service when sending packages to our customers who sell as resellers, who often buy our products in large quantities within a certain time until sending Eid parcels that have a larger size than the usual package.
We can use this service on the Paxel apps with economical prices starting from 2,000 per Kg for shipments of packages over 10 Kg. Currently PaxelBig service has served Jabodetabek, Bandung, Yogyakarta, Semarang, Denpasar and will continue to be present in other cities.
We can feel the convenience and comfort in making deliveries on the Paxel application which is complete with various features that make it easy to do business, especially in the shipping process, starting from shipping as a dropshipper, checking resi, and tracking directly, create shipments with the fast shipping feature based on our shipping history starting from Draft Shipment, Frequent Shipment, to Recent Shipment.
There are various features and services from Paxel that can help us manage a lot of orders in this month of Ramadan more efficiently, easily, and quickly. By utilizing the various existing technological features, it can help our business process to be easier and more comfortable.
Let's, send the Sameday package via Paxel and download the Paxel apps now to send your products starting from frozen food, sending food until delivering your food parcels with the affordable delivery cost. Paxel can be a mainstay of food courier services during Eid or Ramadan package couriers for your business! Enjoy the latest Ramadhan Paxel promos to send more economical packages!